Key 1 : SET YOURSELF A GOAL
What are your realistic goals for each subject and overall for the exams? What if the examination was this week? What marks could you get? Let's say, this week was exam, and you could get 60% overall.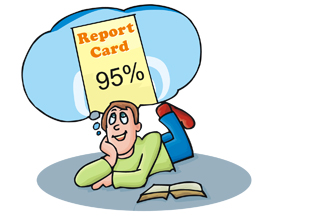 The questions you need to think about are:
How am I going to get 90%+?
Should I give equal importance to all my subjects?
Should I study the most difficult topics and subjects first?
What are your realistic goals in each subject in the upcoming Boards?
What would you ideally like to get in terms of an overall average?
Now presumably your class has finished going over the course work and you are in the revision mode. Technically, you are empowered to know all that you need to know to compete in the Boards. However, if you took a Board examination today, what would be your overall percentage of marks? Presumably, not very good!
This is because preparation for a Board examination requires a lot of preparation beyond the understanding of textual matter. In order to now improve on your present percentage, you need to:
apply understanding to the context of questions (consequently, develop a deeper understanding of concepts),
remember certain facts and formulae
learn how to write answers to maximize marks,
practice for speed; and,
practice for accuracy.
Decide what would you like to accomplish in terms of average/ overall percentage of marks in the final Board examination, and what you feel you can realistically accomplish if you were to take your Board exams today.
Try now to work now to make up the difference between the two.
How can you make up these marks in the easiest possible way?
First strategize (see differentiation strategies presented). Then, tell yourself you can do it.